We are extremely happy to be able to offer these Texas Longhorn checks. Show off your state and school pride all at once. These are a super cool design.
In fact, there are four (4) cool pictures that rotate throughout this design. If you are a fan, then you will enjoy these personal checks.
Here are the 4 images in this design.
Even if you don't love the design above, you can create your own Longhorn Checks by uploading your own images, including drawings, pictures of friends, or images from the campus. Whatever your memory, you can make your Longhorn checks unique.
You have two (2) options when designing your own Texas Longhorn checks. You can have the same image appear on every check or you can choose four (4) images that rotate through the checks. 
We also have a huge selection of Longhorn wallets and checkbooks.
The following is the prices for the pre-printed 4 image design above, not to create your own design.
STANDARD PRICING:
Singles
Duplicates

1 Box: $19.95

2 Boxes: $37.90

4 Boxes: $56.85

1 Box: $21.95

2 Boxes: $41.90

4 Boxes: $62.85
There are 100 checks in a box of this design.
If you are a first time customer, you can get additional savings on this design.
Texas Longhorns Checkbook
Texas Longhorns Crunch Leather Secretary Checkbook – Brown
$44.95
365-Day No Hassle Returns! You drink your cold ones from a bottle. You iron your Longhorns tee before the game. Youre a sophisticated guy with Texas spirit so carry your checks in this Crunch Leather Secretary checkbook. This genuine leather checkbook features a metal Longhorns emblem on the front multiple card and picture slots an ID window and a money compartment to hold all of your cash. When you pull out this checkbook youll earn some serious Texas cool points!
Texas Longhorns Bottle Opener Secretary Checkbook Cover – Brown
$44.99 $13.29
Sometimes balancing your checkbook can be a stressful objective. Why not sip on your favorite beverage the next time you attempt to sort out that checkbook while watching the Longhorns game? This Bottle Opener Secretary checkbook is made from genuine leather, features a metal Texas logo on the front, and includes a built-in bottle opener. The inside consists of two pockets, picture holders, and plenty of slots for cards. Just take care when organizing your checkbook in front of the Longhorns game with your drink of choice!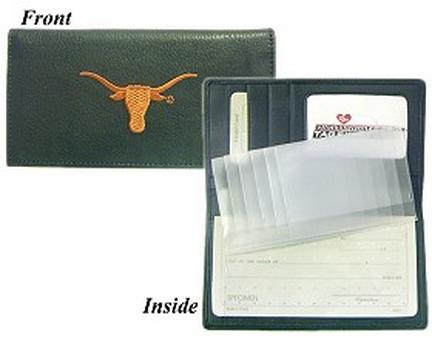 Texas Longhorns Embroidered Leather Checkbook Cover
$36.50
The perfect item for any Texas Longhorns fan! Keep track of your checking account in style with this attractive checkbook cover! Your favorite teama€ s logo is embroidered on the front of the cover. This genuine leather checkbook cover has slots inside for your driver's license and 5 credit cards. It also comes with a removable plastic 6 sleeve picture/ID holder. Intended to be used with top tear checks. Made by Rico.
Longhorns Wallet
Texas Longhorns Crazy Horse Tri-Fold Wallet – Brown
$44.95
You don't just love your 'Horns – you're crazy about them! Show off your die-hard Texas fanaticism with this Crazy Horse tri-fold wallet. Featuring a cash compartment six card slots and removable photo sleeves this wallet has plenty of storage for everything you need to carry on you. It also has an embossed metal Longhorns logo on the outside so you can show that you have mad team spirit!
Texas Longhorns Embossed Tall Wallet
$44.95
365-Day No Hassle Returns! Youve been thinking about upgrading your wallet so that you can fit your cards and checkbook all in one place. More importantly you need a way to show off your Longhorns team spirit at the same time! This great Embossed Tall wallet features embossed Longhorns logos and wordmarks on the leather exterior along with six card slots two cash slots a checkbook slot and a removable plastic insert with six more cards slots. With this in your possession youll be able to show off your Longhorns team spirit every time you write a check or use your cards!
Texas Longhorns Bottle Opener Leather Billfold Wallet – Dark Brown
$44.95
365-Day No Hassle Returns! Youre a resourceful guy whos known for being a huge UT fan. Show off both of those traits with this bottle opener leather billfold wallet! The outside features a brushed metal Longhorns logo and a bottle opener attached to an elastic band. Eight card slots two slip pockets and a main compartment for cash on the inside make this wallet perfect for a busy fan like you. It also includes a removable plastic insert to hold pictures of your favorite Texas memories! Youll always be prepared when youve got this handy wallet in your pocket.
Texas Longhorns Pebble Grain Bi-Fold Leather Wallet with Pantone Stitching – Brown
$44.95
You've got no shortage of Longhorns fanaticism. From your Texas throw rug to your team-colored lamp your home screams team spirit. Now that your every inch of your house displays your Texas pride maybe it's time to pay a little attention to a daily necessity-your wallet. This Pebble Grain bi-fold leather wallet has eight card slots six photo sleeves a note compartment and a double-sided fold out ID panel. Also featuring a pebble grain exterior contrast-colored stitching contrast-colored canvas accents and debossed team graphics on the interior and exterior this high-quality wallet will show off your die-hard team enthusiasm whether you're paying for your ticket to the game or taking your favorite Longhorns fan out for dinner and a movie.
Texas Longhorns Crazy Horse Leather Billfold Wallet – Brown
$44.95 $35.96
The only thing better than the smell of genuine leather is genuine leather with some Texas team spirit! Stow your cash in Texas Longhorns style with this Crazy Horse billfold! This smooth leather wallet features a metal Longhorns logo emblem on the outside for a bold statement of Texas pride. Inside you'll find a removable ID holder one large slip money compartment and four card slots. Everybody will be in awe of your Longhorns spirit the next time you need to pay!
Texas Longhorns Crunch Tri-Fold Leather Wallet – Brown
$39.95
A hardcore fan like you wishes you could attend every Texas sporting event but it's just not possible. What you need is a little something that will remind you of your die-hard team pride every day of the year. The Crunch leather wallet is the perfect pocket-sized piece of Longhorns flair. With six card slots five photo sleeves a note compartment a clear plastic ID panel and a metal team logo emblem on the front this tri-fold wallet will keep your cash and cards secure while displaying some classy Texas spirit. Instead of being bummed that there's no game today watch some highlight videos and celebrate the Longhorns in style every time you use this snazzy wallet.
Texas Longhorns Crazy Horse Embossed Leather Billfold Wallet – Brown
$44.95
365-Day No Hassle Returns! Let Bevo hang on to your cash cards and other valuables with this Crazy Horse embossed wallet. Every time you pull this wallet out you will be reminded of your Texas pride when you get a look at its allover embossed team graphics. With plenty of room for all of your currency this genuine leather wallet also has space for photos of your favorite little Longhorns fan and is durable enough to last for years of Texas victories to come!
Texas Longhorns Crazy Horse Tall Leather Wallet – Camo/Brown
$39.95
Let's face it; keeping up with your checkbook is hard to do. The lack of Texas spirit and overall boringness of the generic blue vinyl case are just embarrassing anyway. Make your checkbook holder something that you flaunt with this Texas-themed Crazy Horse tall leather wallet! This leather wallet is made to hold your checkbook and features an awesome camo cover. The inside has six card slots two large slip pockets and a plastic ID slot so that you can keep up with all of your other essentials not just your checkbook. It may be camo but this wallet will stand out with the embossed metal Longhorns logo attached to the front. Just like you never lose your Texas spirit with this awesome Longhorns wallet you'll never again have to worry about misplacing your checkbook!
Texas Longhorns Mossy Oak Break-Up Leather Tri-Fold Wallet – Camo
$44.95 $35.99
365-Day No Hassle Returns! If you had to whittle your style down youd find two large contributions: your camo threads and your Longhorns fanaticism. Thats why you need this Mossy Oak BreakUp leather trifold wallet. It features a leather camo exterior a metal team emblem on the front six card slots and a large slip money compartment. Show off your Texas pride and your camo style with this Longhorns trifold wallet!
Texas Longhorns Crunch Leather Billfold Wallet – Brown
$42.95
It's Texas' hunger for victory that makes you excited to see them play. You can always rely on the Longhorns to defeat the competition and leave you feeling satisfied after every game. Experience the same sense of gratification when you let your Longhorns protect your cash with this Crunch leather wallet. This wallet has been indented with creases for a distressed look and features a pewter team logo a money compartment two ID windows six photo sleeves and eight card slots. You know your necessities will be kept safe with the Longhorns!
Texas Longhorns Debossed Pantone Stitch Billfold Wallet
$44.95
365-Day No Hassle Returns! Whenever your buddies talk about their favorite college teams you always tell them the Longhorns have it goin on. Back up your winning team with a stylin wallet thatll show your friends just how cool your Longhorns are. This Debossed Pantone Stitch billfold wallet features team-colored stitching on the shell next to a debossed team wordmark. With eight card slots one cash slot two clear ID slots and even more splashes of team flair inside this hip wallet will show your buds that you just like your Longhorns strike the perfect balance of style and success!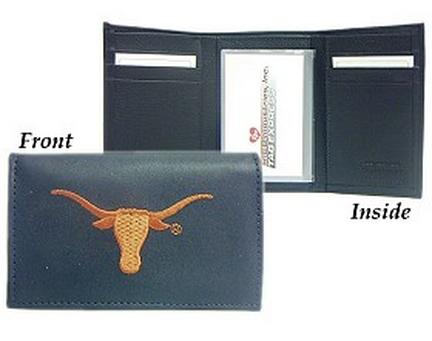 Texas Longhorns Embroidered Leather Tri-Fold Wallet
$36.95
A perfect gift for yourself or your favorite sports fan! The Texas Longhorns logo is embroidered onto the front of the wallet. The wallet is made of genuine leather and will last for years! Inside you†ll find a compartment for cash, 6 slots for cards, a slot for your drivers license, 3 inner compartments, and a removable plastic 4 sleeve picture/ID holder. Made by Rico.