We are extremely happy to be able to offer these Texas Longhorn checks. Show off your state and school pride all at once. These are a super cool design.
In fact, there are four (4) cool pictures that rotate throughout this design. If you are a fan, then you will enjoy these personal checks.
Here are the 4 images in this design.
Even if you don't love the design above, you can create your own Longhorn Checks by uploading your own images, including drawings, pictures of friends, or images from the campus. Whatever your memory, you can make your Longhorn checks unique.
You have two (2) options when designing your own Texas Longhorn checks. You can have the same image appear on every check or you can choose four (4) images that rotate through the checks. 
We also have a huge selection of Longhorn wallets and checkbooks.
The following is the prices for the pre-printed 4 image design above, not to create your own design.
STANDARD PRICING:
Singles
Duplicates

1 Box: $19.95

2 Boxes: $37.90

4 Boxes: $56.85

1 Box: $21.95

2 Boxes: $41.90

4 Boxes: $62.85
There are 100 checks in a box of this design.
If you are a first time customer, you can get additional savings on this design.
Texas Longhorns Checkbook
Texas Longhorns Bottle Opener Secretary Checkbook Cover – Brown
$44.99 $13.29
Sometimes balancing your checkbook can be a stressful objective. Why not sip on your favorite beverage the next time you attempt to sort out that checkbook while watching the Longhorns game? This Bottle Opener Secretary checkbook is made from genuine leather, features a metal Texas logo on the front, and includes a built-in bottle opener. The inside consists of two pockets, picture holders, and plenty of slots for cards. Just take care when organizing your checkbook in front of the Longhorns game with your drink of choice!
Longhorns Wallet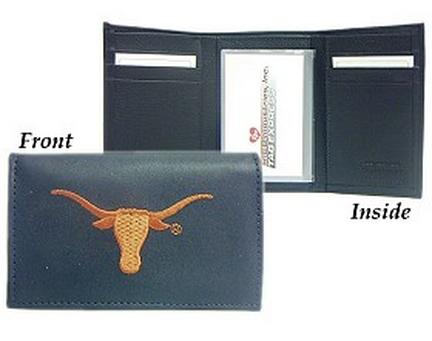 Texas Longhorns Embroidered Leather Tri-Fold Wallet
$36.95
A perfect gift for yourself or your favorite sports fan! The Texas Longhorns logo is embroidered onto the front of the wallet. The wallet is made of genuine leather and will last for years! Inside you†ll find a compartment for cash, 6 slots for cards, a slot for your drivers license, 3 inner compartments, and a removable plastic 4 sleeve picture/ID holder. Made by Rico.